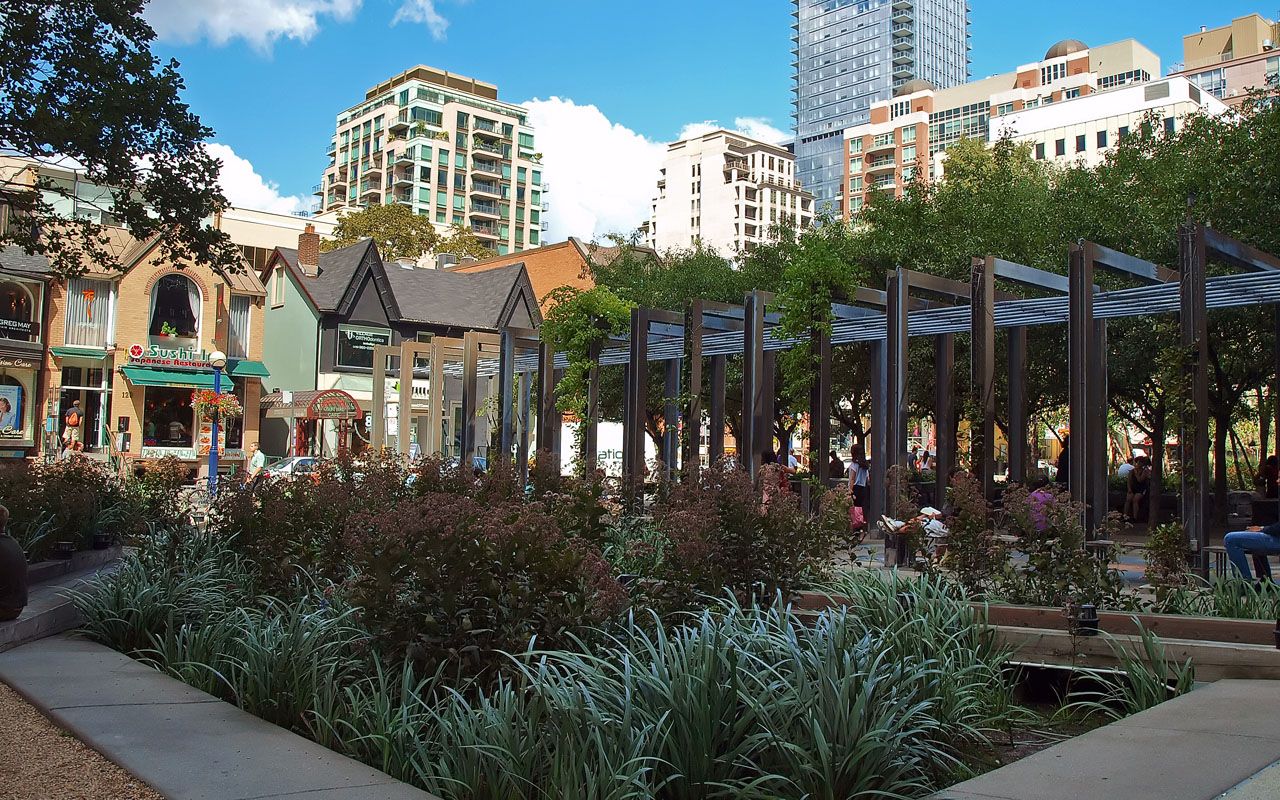 WELCOME TO YORKVILLE
Upscale neighbourhood with incredible shopping and dining
 Yorkville is an upscale neighbourhood in the heart of Downtown Toronto with a wealth of attractions and amenities. Yorkville's Mink Mile is one of the most prestigious shopping and dining streets in North America. Yorkville is also a central cultural hub with numerous museums and art galleries. Yorkville offers an eclectic mix of attractive historical and contemporary real estate. The main avenues within Yorkville are lined with beautiful Victorian homes, while smaller interior streets feature newer townhouses and semi-detached properties. Other housing options include condos in a mix of classic and luxurious new developments, including iconic high-rises such as the Manulife Centre.
WHAT TO LOVE
Attractive architectural mix
Upscale restaurants
Mink Mile shopping
Museums and art galleries
PEOPLE & LIFESTYLE
Yorkville was originally subdivided in the 1830s. Over a century later, the neighbourhood emerged as the centre of Toronto's 1960s hippie counterculture. Yorkville was home to many of Canada's most prominent musical stars during this time, including Neil Young, Joni Mitchell, and Gordon Lightfoot. Other residents included literary luminaries such as Margaret Atwood, Dennis Lee, and Gwendolyn MacEwen. With a convenient downtown location and some of the city's finest shopping, dining, and cultural attractions, Yorkville is one of Toronto's most sought-after neighbourhoods.
DINING, ENTERTAINMENT & SHOPPING
Bloor Street's Mink Mile stretch is a high-end commercial centre with the most expensive retail space in Canada. The Mink Mile has also been recognized as the third most expensive retail location in North America and the seventh priciest shopping street globally. Retailers lining the Mink Mile include luxury fashion powerhouses such as 
Balenciaga
, 
Cartier
, 
Chanel
, 
Coach
, 
Dolce & Gabbana
, 
Louis Vuitton
, 
Hermes
, and 
Tiffany & Co
. Major retail destinations also include the flagship 
Holt Renfrew
 department store and a 
Harry Rosen
 menswear store spanning five floors and 50,000 square feet of retail space. Yorkville's dining options are similarly impressive. In a quiet location off York Avenue, 
Chabrol
 is a hidden back-alley French bistro serving elegant cuisine and scrumptious desserts. Inside the Four Seasons, 
Café Boulud
 is an impeccably stylish dining destination for seasonal French brasserie fare served in a refined old-world setting. Other Yorkville highlights include rooftop gastropub 
Hemingway's Restaurant and Bar
, romantic French-Canadian restaurant 
Sassafraz
, legendary three-story jazz bar 
The Pilot
, and the Hazelton Hotel's beautifully-designed 
ONE Restaurant
.
THINGS TO DO
Yorkville is a vibrant cultural hub featuring some of Toronto's finest museums and galleries. 
The Bata Shoe Museum
 and 
the Gardiner Museum of Ceramic Art
 each boast collections spanning thousands of artifacts from many different countries and periods. 
The Royal Ontario Museum
 is the largest and most-visited museum in Canada. This sprawling cultural complex has more than six million items displayed in 40 museum galleries exploring everything from art to natural history. Some of the most popular ROM exhibits include dinosaur fossils, textile pieces dating back to 1 BC, meteorites, Stone Age tools, Roman and Byzantine antiquities, ancient Chinese tombs and palace recreations, and European artworks from the Renaissance into the 20th century. The five-story 
Toronto Reference Library
 has a similarly massive collection of important historical documents as well as an art gallery and frequent specialist lectures. Yorkville is also home to many art galleries covering a wide array of subjects and time periods. Highlights include contemporary and historic Canadian artworks at 
the Canadian Fine Arts Gallery
, 19th and 20th-century Canadian art at 
Loch Gallery
, and exhibits of post-war and contemporary works at 
Mayberry Fine Art
, 
Mira Godard Gallery
, and 
Miriam Shiell Fine Art
.
SCHOOLS
Yorkville is served by the Toronto District School Board.
Jesse Ketchum Junior and Senior Public School, Public, PK-8
The Rosedale Day School, Private, PK-8
Blyth Academy Yorkville, Private, 9-12